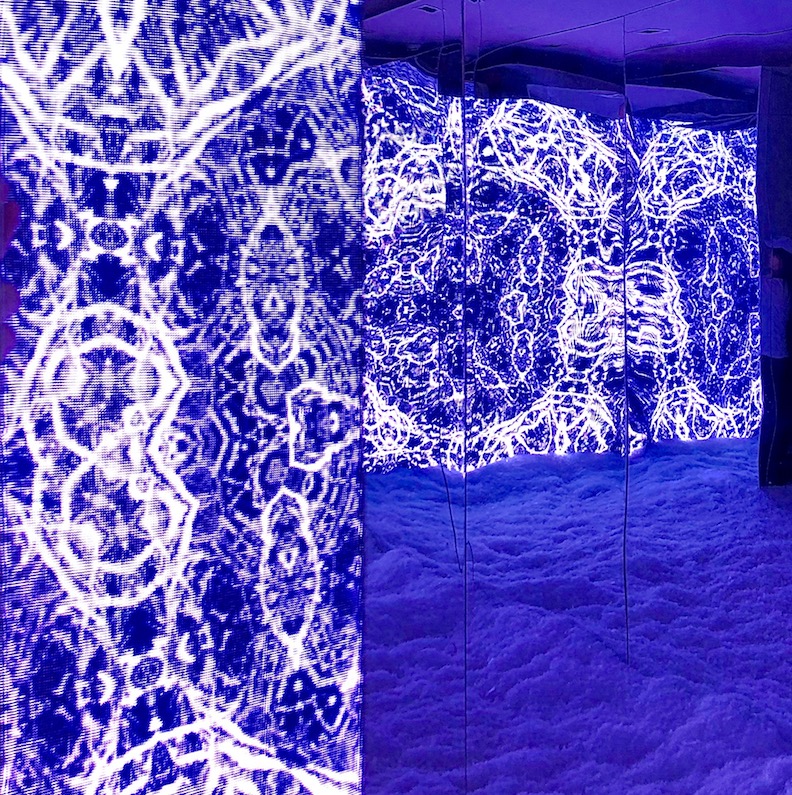 Highlights from Saks IT List Townhouse in partnership with American Express and Harper's BAZAAR — an exciting space with infinity mirrors and multiple levels featuring unique themed room designs. Please see below for the event description & details.
From the ticket website at Eventbrite:
"Don't miss your chance to visit the season's hottest destination to see and be seen this fashion week: The Saks IT List Townhouse, in partnership with American Express and Harper's BAZAAR. Find yourself immersed in different rooms of fashion, accessories, and style as you discover the Saks IT List trends of the season brought to life. Card Members will also have exclusive access to shop the newest accessories and latest fashions featured throughout the experiential townhouse including bold plaids, Wild West looks, statement outerwear, and the very best of what can be found on the runways.
Location: 80 Washington Place, New York, NY (Between 6th Avenue and Washington Square West in Greenwich Village)
Hours: Friday September 7th, 10am – 8pm EST; Saturday 8th, 10am – 8pm EST; Sunday 9th, 10am – 4pm EST; Monday September 10th; 10am – 4pm EST
Access Policy: Access to The Saks IT List Townhouse in partnership with American Express and Harper's BAZAAR will be based on venue capacity, event pre-registration, and Card Member priority access. Priority VIP access will be granted to Platinum Card® and Centurion® Members, SaksFirst Credit Card Members (each Card Member will be allowed up to three guests at the time of admission and a physical card must be presented) and pre-registered Eventbrite ticketholders on a first come, first served basis, when capacity allows during the published operating hours. Please note that the venue may be closed for private events and a separate ticket or invitation will be required for entry. This venue is not wheelchair accessible.

Product Purchase Policy: Product purchases at The Saks IT List Townhouse must be paid for exclusively with an American Express® Card or SaksFirst Credit Card. No returns or exchanges may be made at The Saks IT List Townhouse. Returns or exchanges can be made at a Saks Fifth Avenue retail store, subject to Saks Fifth Avenue's standard return and exchange policy. For full SaksFirst Credit Card terms and conditions, visit www.saksfirst.com."
We attended the event, the townhouse was beautiful. Staged as an interactive surreal platform for shoppers (see above), the venue offered an immersive experience plus a coupon for any purchase above $300 USD. The townhouse itself made the visit enjoyable. Located in Greenwich Village at 80 Washington Place, the home has historic significance — John Philip Sousa once resided there. How easy it is to miss this fact! But it's written on a small plaque which also states the home was built in 1852 and is of the "Greek Revival Style of the period." In case you forgot (I did), John Philip Sousa was an American composer who wrote the official National March of The United States called "The Stars and Stripes Forever." You can listen to the official march on YouTube at this link— https://www.youtube.com/watch?v=-mRn9chmRAY. Sousa's grandparents reportedly fled from Portugal to Spain during the Peninsular War in 1822. His father, John Antonio Sousa, immigrated to the United States, married and had ten children [Source: your island routes.com]. Born in November 1854, John Philip Sousa was John Antonio's first born son. At the young age of thirteen, he joined the US where he enlisted in the Marine Band [Source: www.immigrantentrepreneurship.org]. The Greenwich village townhouse where he once resided recently underwent a complete interior renovation and placed on the market; an online video reveals many designer upgrades and luxuries.