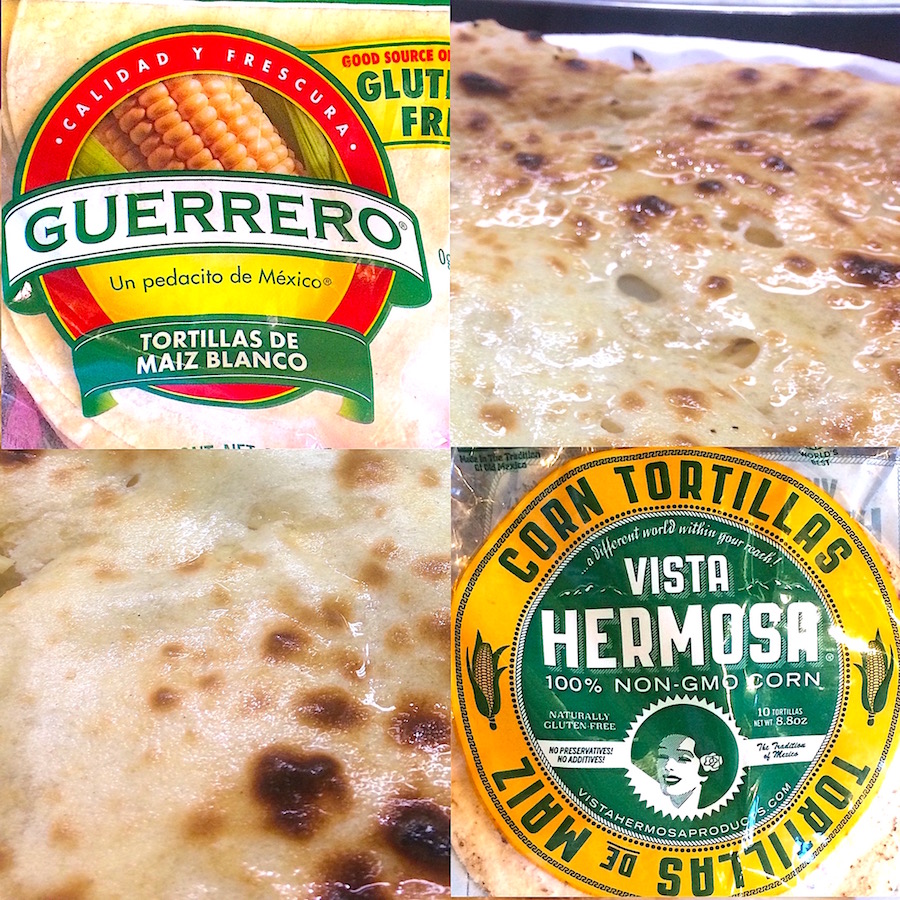 While there's nothing quite like fresh home-made corn tortillas, they aren't always readily available to consumers.  Store-bought tortillas are a quick solution and when fresh and made correctly, can provide a reasonable substitute. They can also be very disappointing if not properly crafted or left on the shelf for too long. We recently compared two brands found at our local store — Guerrero and Vista Hermosa with very different results.  Let's begin our comparison with the Guerrero brand of tortillas.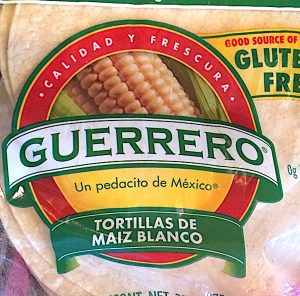 Guerrero tortillas are a very popular brand and widely available. Produced by the Gruma corporation, the largest tortilla manufacturer in the world (they also make Mission brand tortillas), Guerrero is one of the most popular and top selling tortillas brands. The nutritional information is easily found on the packaging and online, although there is some slight variability depending upon what site you visit. Regardless, the label for Guerrero's white corn tortillas (see photo above) clearly states it is lard free with no cholesterol and zero grams of trans fat. Our label also stated it is "gluten free."  While not listed as "non-GMO" nor is it labelled "natural or organic," it's hard to resist the price and ready availability of their product.  We liked these tortillas when warmed and loaded with lots of pastor, cheese and peppers. They served as a pleasant background for a heavily spiced taco.
The second product, the corn tortilla by Vista Hermosa, was incredibly flavorful and authentic tasting. Its label stated it was 100% preservative free, naturally gluten free and made from 100% non GMO corn.  It was also more expensive and harder to find at our local store (Fairway Market in this case). While we also enjoyed these tortillas, they quickly ran out and we were unable to find them again. The Vista Hermosa corn tortillas have a local following and several fans– they received rave reviews by belikefamily.com who described them as "The best store-bought tortilla I ever had" after discovering them at the Gowanus Whole Foods in Brooklyn. If you can find them, they're worth the price. Definitely buy at least two packages. We loved the Vista Hermosa tortillas with just about everything.  As far as which brand was better, there was no clear winner. The Vista Hermosa had more flavor but the Guerrero was a lot cheaper and worked well with our recipe. We ended up using more of the Guerrero simply because the store had more of it in stock.  Hopefully Fairway Market will restock both brands so we don't have to choose. As it were, we were searching for organic corn tortillas but left empty handed as there were none available. The lack of organic tortillas was a bit of a surprise given recent news from the Specialty Food Association which found that the majority of Hispanics purchase natural and organic products. In fact a store's selection of organic packaged foods and beverages is a deciding factor for nearly one-third of Hispanic shoppers, according to a recently published article from the Packaged Facts report Organic and Clean Label Food Consumer in the U.S.  The study further revealed that Hispanics have a buying power of over one trillion dollars. Given this information, one would expect to find more organic products at grocery stores, yet this appears to be a market that has not yet reached its full potential. Perhaps this partly explains why some consumers still create food "from scratch" thereby bypassing store-bought items altogether. Indeed, making homemade corm tortillas is fairly simple and no more complicated than making pancakes. Corn tortilla recipes are easily found online, including free video tutorials, such as this popular one by Jauja Cocina Mexicana
Additional taste tests and reviews on store-bought and locally created tortillas may be found at these useful links:
Cook's Country Corn Tortilla Review – https://www.cookscountry.com/taste_tests/1491-corn-tortillas – performed two separate taste tests – warmed in an oven and out of the package. The winner was Yellow Handmade Style Soft Corn Tortillas by Maria and Ricardo. Note that they do contain wheat and are NOT Gluten free.
The Chicago Tribune – Best store-bought corn tortilla in Chicago at http://www.chicagotribune.com/dining/ct-best-corn-tortillas-chicago-taste-test-story.html – Reviewed ten popular tortilla brands and compared each one. Winner was El Milagro corn tortillas which were made that morning. This review focused on locally available brands however.
LA Times – Article from 2007 is a bit outdated and also focuses on local brands but is available here at https://www.cooksillustrated.com/taste_tests/1491-corn-tortillas
Real Simple has a good list of popular store bought tortillas available here : https://www.realsimple.com/food-recipes/recipe-collections-favorites/popular-ingredients/favorite-grocery-store-tortillas. Best corn tortilla went to La Banderita White Corn Tortillas and are available at Amazon.com.
The bottom line: The best corn tortillas are fresh, handmade & authentic but there are many suitable store bought versions available.
DISCLAIMER: There are many tortilla companies in the marketplace, however, only a few were available to us for review. As we mentioned, items frequently sell out in our area. This brand comparison does not encompass the full breadth of all available tortilla brands nor does it anticipate what might be the readers choice.