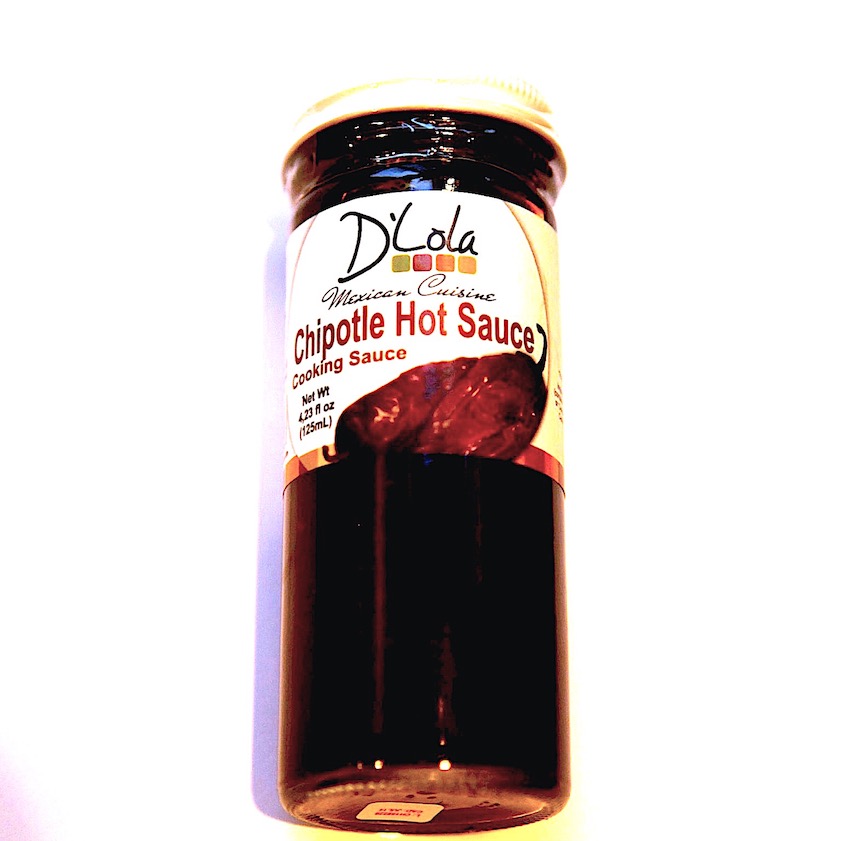 It's hot. It's delicious. And it's Kosher and Gluten Free! We're talking about sauces and salsas by D'Lola. US consumers may not know about D'Lola salsas but if they do, they have excellent taste. D'Lola brand salsas are about as good as it gets for a store-bought product. I'm addicted to salsa and make my own sauces and salsas from scratch. The first time I tried D'Lola, I couldn't believe how closely it approximated my own homemade version. I was hooked and bought up every variety I could find. Locating their salsas has been a challenge, though. Amazon used to sell them but they have been out of stock for a very long time. As for ordering the sauces directly from the company, this has also proved difficult.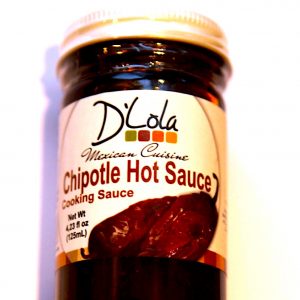 I googled "D'Lola" and located their website "Salsas D'Lola." The company website is beautifully designed, especially the page listing the specific salsas — Red Jalepeno, Green Jalepeno, Chipotle and Peanut. If you scroll down. you'll discover a few recipes and then a link to Williams Sonoma, unfortunately not the US based one. Salsas D'Lola is a Food & Beverage Company in Teziutlán, Puebla Mexico. According to their website
"D'Lola Hot Sauce is available in stores across Mexico as well as in restaurants with good taste. Find D'Lola Hot Sauce in your area by clicking here. For our legions of fans not in the Mexico, please click here to find us in your country."
Yet when I attempted to click on the link, it yielded zero results. Back to the drawing board. So I decided to reach out to the company, hoping to receive a response. In the meantime, I will return to making my own salsas. It's not that difficult and many people create their own simply out of tradition. A quick summary of how to make your own salsas:
Select your dried pepper of choice. I prefer Pasillas, specifically Pasilla de Oaxaca, the smoked chile used in black mole recipes. Take the dried peppers, remove tips and stems and split open. Some people chop them up into segments. I don't. Instead, I tear off the stem and split each pepper open by hand, removing the seeds with a spoon. I make sure not to rub my eyes during this step and always wash my hands thoroughly before and after.
Once the chiles have been split open, you may use the seeds to adjust the heat level. If you like super hot and spicy sauces, leave more seeds in. I remove all of them as I want the sauce to reflect the core flavor of the pepper and not be obscured by too much heat.
Chop an onion and a few cloves of garlic. How much to use? Again, it's more to do with your personal preference and the amount of sauce you're trying to make. Search for recipes and try out a few until you arrive at one you enjoy the most. Roast the garlic (usually around 2 or 3 cloves) in a skillet with a bit of oil and set aside.
Add a Teaspoon of oil (use a good quality fresh olive oil or something similar) to a sauté pan. I prefer to use my All Clad stainless steel sauté pan for this. I also use a cast iron skillet for dry roasting. Personally, I prefer the traditional approach of roasting the chiles dry without any oil at all. I roast the chiles for about one minute making sure not to burn them, pressing them flat while checking and turning them frequently using metal tongs. Again, be very careful not to burn the chiles or the sauce will taste bitter. If the interior of the pepper lightens, remove it from the heat. Likewise, if you accidentally burn/char the pepper, don't use it.
Once they've been fully roasted, place the chile peppers into a generous glass bowl of hot water. Soak them for around 20 to 30 minutes.
The above steps describe the process of re-hydrating the dried chiles to bring out their natural flavor and complexity.
Once the peppers are re-hydrated, check the water (it should be a reddish-brown color). Discard the water.
Toss the chiles into a blender and mix them until they form a smooth paste. To assist the mixing process, you can add vinegar (for sauces, similar to a Tabasco sauce in consistency) or tomatoes (for salsas and denser sauces). This serves as the base for your sauces and salsas.
Add roasted garlic, onions, more tomatoes etc to the blender until the salsa is smooth. A 12 oz can of fire roasted tomatoes can be utilized to save time.
Another approach is to place your cleaned garlic cloves, chopped onion and chopped tomatoes on a baking sheet or cast iron pan and grill them until blackened on all sides. Once your vegetables are grilled, allow them to cool slightly and then add them to the chile base mix in the blender and mix together until smooth. Strain the mixture to remove debris. Don't forget to add the salt. How much salt? Adjust it to suit your taste, but remember you can always add more but once the salt is added, it cannot be removed. Lean towards undersalting, remembering that some food (especially tortilla chips) contain their own additional salt. I prefer to rely on the natural flavor of the food, rather than salt.
Finally, depending upon the size of your batch, you may wish to freeze any leftovers. Some cooks prepare the base sauce (simply the chiles alone) and then add either water or apple cider vinegar to it. The ratio of liquid (water or vinegar) is usually around 1:2 or for every one cup of chile pepper paste, use 2 cups vinegar or water. Again, some cooks use more of the liquid component when they desire a more watery hot sauce for cooking (not dipping).
Ultimately, when preparing your own salsas, you're the best judge of which recipe to select. It's important to be flexible and experiment with different ones. Also, taste your individual ingredients before using them (the exception being the super hot seeds from the chile pepper – don't taste those !). Nothing ruins a great recipe quicker than one bad ingredient. Is the garlic fresh? Do the tomatoes look ripe? Is the oil (if you decide to use some) high quality and fresh? I've tasted many oils and there is a vast range of flavors from one oil to another. Some oils are almost tasteless whereas others are nutty or bitter. You don't want a bitter flavor complicating your recipe, so taste before using.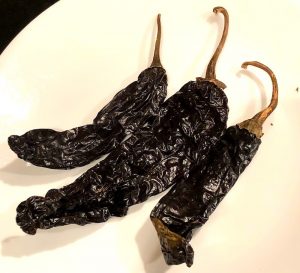 While it may seem complicated, once you select a recipe you like, creating your own salsas is so easy you'll wonder why you didn't start making them sooner. As far as how much of each ingredient to use, simply search for a good recipe and follow the suggested ratios. An excellent Adobo recipe by Mexican chef Roberto Santibanez may be found online here. As a rough guide, the process of creating hot sauces and salsas goes something like this:
Prepare dried peppers
Roast dried peppers
Re-hydrate dried peppers
Place wet peppers into blender
Add your preference of ingredients — water, vinegar, tomatoes, onions, garlic, cilantro, salt, pepper etc
Place through a metal strainer
Freeze the leftovers
To make a basic oil-free sauce, use 6 pasilla chiles, 6 garlic cloves, 1 Tsp oregano, 1/4 tsp ground cumin and 1 1/2 cups of water. Prepare and re-hydrate the chiles as described above and remember to roast the whole cloves of garlic and then peel (do not blacken or burn the interior). The classic version of Salsa de Chile Pasilla Oaxaqueno incorporates tomatillos – as described in this recipe by acclaimed chef and restauranteur Iliana de la Vega. Pretty straight-forward. Even so, I wish D'Lola would bring back their product to the Amazon marketplace in the US. Having a reliable delicious product saves a step in the kitchen and provides a consistent base for many recipes. Here's hoping they bring it back! If not, we will continue our search for more great products and recipes.