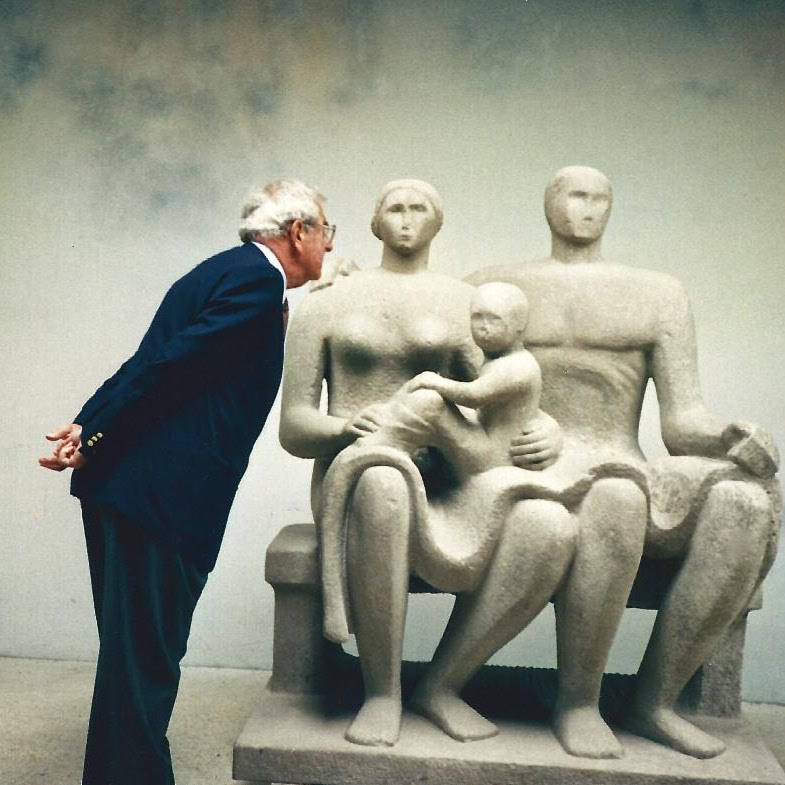 From the official HFFNY Press Release :
"New York, August 11, 2022— Alex J. Rosenberg, our beloved Board Advisor, passed away July 22 in Manhattan at the age of 103. At The American Friends of the Ludwig Foundation of Cuba (AFLFC) and its brainchild, the Havana Film Festival New York (HFFNY), we would like to share these words about a human being who has left an indelible mark on not only all who knew him personally but also those who benefited from his as a passionate defender of our human rights and civil liberties.Alex Rosenberg was Lieutenant Rosenberg, Textile Engineer, NY District Leader, DNC Delegate, Center for Constitutional Rights Vice President, founder of Transworld Art, Art Dealer, Art Appraiser, Decision Maker, a Role Model, a Civil Libertarian; a Loving Partner (Carole and Alex married on May 15, 1977) and also a straightforward, funny, iconic figure of the Art World and outstanding Human Being beloved by many. He was always a progressive, young in ideas, a believer and defender of the Constitution and the rights it enumerates; he spent his life fighting against those who tried to take them away from his fellow man.
Alex J. Rosenberg, or simply "Alex", was a fundamental part of the formation of AFLFC. His commitment to building cultural bridges between the U.S. and Cuba began in 1991, after his pivotal role in the federal government's decision to allow for the importation of Cuban art into the country. In the 32 years that followed, Alex, in partnership with AFLFC President Carole Rosenberg (and Alex's wife of 45 years), continued to do whatever possible to improve cultural relations between the two countries.Through the projects he spearheaded and the friendships he cultivated, in the U.S., Cuba, and around the world, Alex exemplified the idea that art transcends borders. With his experience as an expert art appraiser, he sought to provide new tools for Cubans to use to preserve their cultural heritage. In 1993 he became involved with Havana's renowned Instituto Superior de Arte (ISA), where he earned a Doctorate that culminated with the publication of his first book: The Art, Science, and Business of Appraising (2003). He also served as a Visiting Professor and co-created the Institute's Master of Fine Arts degree course in Appraisal Science, Art, and Art Law. In 1995, he received Cuba's highest cultural award, "Por la Cultura Nacional" (the Distinction For National Culture.)In 1997, he arranged a major exhibition of the sculptures and drawings of English artist Henry Moore at Havana's Wilfredo Lam Center. He also brought the first-ever collection of the work of Salvador Dali to the island in a show at the National Museum of Fine Arts in 2014. Working alongside Carole and AFLFC, Alex helped to consolidate various successful projects such as the Havana Film Festival NY, the Cuba Si Festival and nurtured young Cuban talented artists.Alex's relationship with the people of Latin America extended beyond his work with Cuba. At the Altos de Chavon International School of Design and Art in the Dominican Republic, Alex was a distinguished lecturer famous for memorable and honest lectures as an art dealer and appraiser. He was a lifelong champion of civil liberties with an extensive history of political and cultural activism that includes his time as a Delegate to the 1968 Democratic National Convention, his 12-year tenure as Vice President at the Center for Constitutional Rights, and his work with Israel and Cuba. Professionally, he was an expert art appraiser, successful gallerist, art dealer, and publisher of fine art prints, working with such renowned artists as Salvador Dali, Alexander Calder, Romare Bearden, Lee Krasner, and Henry Moore, to name just a few.Alex was an active Advisor to AFLFC's Board of Directors, where he brought his experience as an art appraiser, keen eye for discovering new talents, and deep knowledge of the art world and various forms of expression. A fierce defender of civil and human rights, he offered perspective to the work of the Foundation. At Board meetings, he gifted us with his quick wit, sense of humor, and wisdom that comes from a long life, well-lived.At the Havana Film Festival NY, Alex could watch 2-3 movies daily. His presence at the office on 43rd Street was a daily source of inspiration; his willingness to help in any capacity will be sorely missed. As quoting Alex: "May we always meet in peace and friendship."The Havana Film Festival New York is a project of The American Friends of the Ludwig Foundation of Cuba (AFLFC), a non-profit 501(c)(3) organization building cultural bridges between the U.S. and Cuba through programs in the arts since the year 2000."

Nuestras condolencias, Alex J. Rosenberg. 103 years old – a life well -lived.