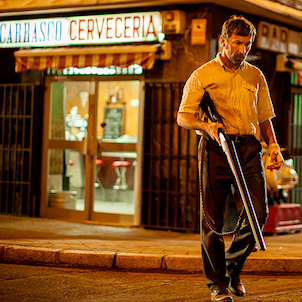 Film Festivals — Spanish Cinema Days Returns to New York City
New York, NY – On December 7th 2018,  King Juan Carlos I of Spain Center at NYU and Pragda Yorkers return with their annual event: "Spanish Cinema Days," a film festival that takes place over three days. This yea, the festival will present some of the most remarkable stories of cinema Spanish contemporary of the prior two years. the focus will be on films reflecting a range of styles, aesthetic and talents in today 's Spanish film industry. Five of the films received international awards, among which Handia (Giant), the winner of the last Goya ® Awards and the fascinating thriller Afternoon to Anger.
This year's films highlight the intricate balance between emerging talent and established filmmakers. Admission is free and open to the public. All foreign language films are subtitled in English.
"The Latino film production inside and outside the United States is stronger than ever. In this regard, Spain has been a vital and eclectic mix of new and emerging talent stories that will delight us stand out with this vibrant 3 – day festival , "said Laura Turegano, Associate Director of the Center of Spain Juan Carlos I NYU.
This year's program is as follows:
Spanish Film Days 2018 Program:
Friday, December 7 / Opening Night.
7:00 pm: Late for anger. Winning Best Picture, Best Director and Best Original Screenplay at the Goya ® 2017 Awards, this film is impressive directorial debut Raúl Arévalo, a thriller about a man who has waited years to avenge a crime that everyone else has forgotten.

Saturday, December 8
5:00 pm: The author of Manuel Martín Cuenca brings us to the strange world of artistic creation and crooked manipulation. Played by a magnificent Javier Gutiérrez, it is one of the most honored films of the year and received the Critics Award FIPRESCI at Toronto Film Festival.

8:00 pm: Many children, a monkey and a castle. The award – winning and hilarious documentary Gustavo Salmeron, reveals a portrait of Julita, the extraordinary mother and family director search to know the reason for the murder of his great – grandmother.

Sunday December 9, 2018
4:00 pm: Psiconautas: the forgotten children of Pedro Rivero and Alberto Vázquez is based on the legendary graphic novel Vazquez. This lively, dark and eerily comic tale tells a story of the awakening of children in a world that has been ruined.

6:00 pm: Giant (Handia) Jon Garaño and Aitor Arregi, winning ten awards Goya ®, is based on real events and tells the story of one of the biggest myths of Basque history: Miguel Joaquin giant Altzo. Convinced that everyone paid to see the tallest man on earth, and his brother Miguel travel across Europe, a journey in which ambition, money and fame forever change the fate of the family.

Please check online for schedule updates & ticket availability – suggest visiting the NYU website and Pragda's events list at pragda.com/events. Spanish Cinema Days is done under the curatorship of Marta Sánchez, Director of Pragda, and Laura Turegano, Associate Director of NYU KJCC; the festival is produced by NYU KJCC and Pragda and co-sponsored by King Juan Carlos I of Spain Center at NYU and the Department of Spanish and Portuguese at NYU. ID photo is required for admission to NYU buildings.