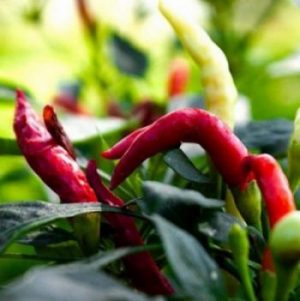 The serrano pepper (Capsicum annuum) is frequently found in local supermarkets in its green unripened form. The serrano originates from the mountains in Mexico and resembles a miniature skinny jalepeno. With a Scoville rating of 10,000 to 25,000 serranos are hotter than the jalapeno and tend to have a fruitier more complex flavor with a bit of a zing. The heat level can be adjusted by removing the seeds and white membranes inside the chili. So what are serranos best used for? One of their classic uses is sauces and salsas. The serrano (paired with green tomatillos) is used to make the classic green sauce for Enchiladas Verdes.  Serranos are also used in ceviche recipes and when combined with lime are an amazing taste combo. Below is my simple family recipe for ceviche.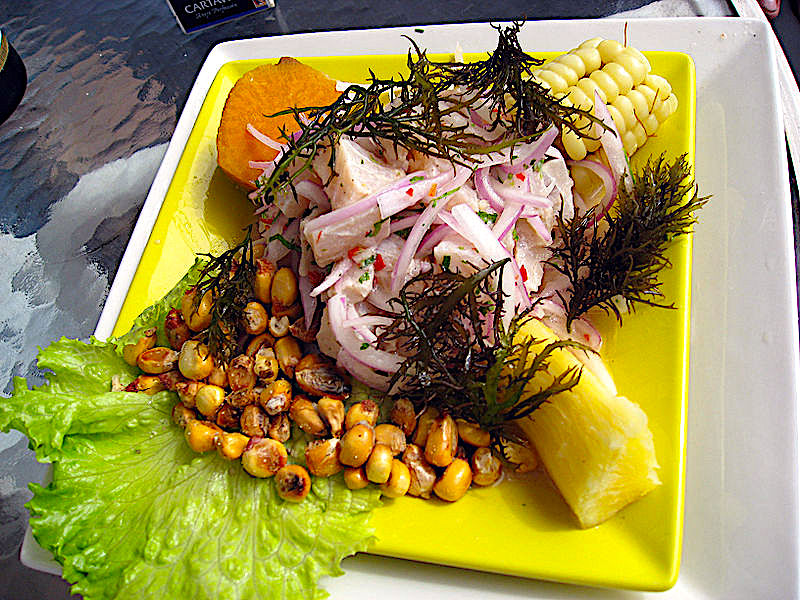 Fresh Ceviche – may be served on a corn tortilla or with tortilla chips
Simple Family Style Ceviche: 1)  Go to the store and purchase fresh shrimp and/or scallops, a ripe avocado, limes, cilantro, serrano peppers,  a few nice ripe tomatoes and a white onion. 2)  Rinse, peel and de-vein the shrimp. Heat up an iron skillet with a small amount of oil. Place the shrimp and/or scallops into the pan just long enough for them to cook through the center. Remove from heat and allow the seafood to cool down. 3) Squeeze 5 or 6 fresh limes, enough to produce enough juice to completely cover the seafood. Place the seafood into a glass or stainless steel bowl and cover with the lime juice. Allow to marinate for 6 hours in the fridge. I sometimes add half of the serranos to the lime juice for extra punch. Same for the white onion, depending. 4) Rinse and half the serranos. Remove most but not all of the seeds and mince. The seeds are where the heat comes from, so if you like your food with more spice or heat, you can control the heat level by selecting the amount of seeds you use. Another way to control heat is by selecting chiles that are milder. 5) Finely chop the white onion and cilantro. Slice the avocado and tomato into chunks. I prefer different sizes between ingredients as it adds to the complexity of the dish. 6) Drain off lime juice. Toss seafood with remaining serranos, onions, cilantro, avocado and a ripe tomato or diced mango. Add salt and pepper as needed. Serve with a plate of fresh tortilla chips or top with giant Peruvian Inca corn (Trader Joe's has a great version).
**Please note: The above recipe is an adaptation from one taught to me by a Peruvian cook. Ceviche often uses raw seafood however raw seafood may be unsafe and so cooked seafood is recommended for this family recipe. I've also used wild salmon with fresh celery plus onion, lime and cilantro.  I prefer to use mostly organic ingredients, especially for the serrano peppers, celery, cilantro and tomatoes.  For more information on why you should always try and buy organic for specific foods, please check out this helpful link by Dr. Andrew Weil: http://www.drweil.com/drw/u/ART02985/Foods-You-Should-Always-Buy-Organic.html.  For more information on the Scoville scale that measures chile heat levels, visit the chart listed at Wikipedia.  Enjoy!
Serrano Chiles grown in Florida – Organic is preferred for peppers used in recipes.
The ANDI score refers to the nutritional value, 1000 being the highest score